GALACTIC COREHARMONY BOARD "G"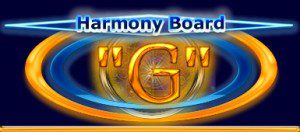 ANGELIC TOOLS OF THE STARSEEDS A HARMONY BOARD is a crystal cleaner.Virtually anything with a crystalline composition will be cleaned cleared of unfavorable energies.The HARMONY BOARD  eats up lower energies like food. In fact, the more lower energies that have to be cleansed, the stronger the energy field becomes about the HARMONY BOARD.If an object that is particularly vibrationally "dirty" is placed on a HARMONY BOARD, the temperature around the HARMONY BOARD rises and  warms up the room.The HARMONY BOARD DOES NOT HAVE TO BE CLEARED, IT ACTS LIKE A SELF CLEANING OVEN… AUTOMATICALLY CLEANING ITSELF AS IT CLEANS CRYSTALS.Every once in a while you might want to "treat" your HARMONY BOARD   to a little rest and relaxation by leaving it in the sunshine.Extensive testing and use of the HARMONY BOARD indicates that it works on the PHYSICAL, EMOTIONAL,  MENTAL, AND SPIRITUAL LEVELS, converting lower unfavorable energies into fundamental energy, sending it back to other dimensions for reuse.
HOW IS THIS HARMONY BOARD DIFFERENT FROM THE ORIGINAL HARMONY BOARD?
The new "Galactic Class" Harmony Boards contain a modified Harmony Board design. This modified design permits the user to connect to the Galactic Core.There are no crystals, wires, magnets., batteries or power sources of any kind in the HARMONY BOARD. Hold a HARMONY BOARD at eye level. Look at its side. You may feel light headed and dizzy… This is because the HARMONY BOARD creates a gateway to another dimension for dumping cleaned energy.The sensation you feel is to the energy around the portal itself, sensed through the third eye and crown chakras.
What is exactly the Galactic Core? The Galactic Core is a place in space which acts like a stargate/portal to the Galactic Center or Gate of God. Entering the Gate of God.  Our planet and our solar system are already moving closer to this actual position in space.It has been suggested that on June 20th, 2008 our Sun will enter the celestial position called "The Gate of Man" causing the Earth to move into direct alignment with the Gate of God. At this time, our planet will experience the blessing of a shaft of light from the core of the Universe – the Throne of God – attuning us to the higher frequencies of light consciousness – also called Divine Oneness!
7″x7″ Harmony Board "G" – $44.00