How to use numbers to create and manifest your intentions.This volume in concert with the two vibrational rate books that are included in this package will help solidify your manifestational intent. You will be able to fine tune your intent into exactly what you want from your life.
$35.00
 INCLUDED IN THIS EDITION:
Official Numeronics Vibrational Rate Book Volume 1
For those of you who have our Numeronics Book, this is a little book loaded with extra vibrational rates to experiment with.Listings include: more Alien stuff, Aura, Bacteria & Virus, The Body, Chakras, Chemical Poisons & Toxins, Crystal Stuff, Unseen Worlds,, Imbalances, Homeopathics, More Implants, More Radiation and Rife.Although this book is for educational and research purposes only, you may find some really nifty and helpful vibrations to get you up and going  down the road.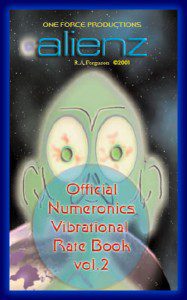 ALIENZ Volume 2
This is another companion volume, or little gem. of a rate book for those of you who work with harmonics in its various forms.A must for anyone using Numeronics, Merlynboards etc.  Inside you will find suggested vibrational rates for many different offworld/alien species, planetary rates, galactic rates and more.